Arnott® Introduces New Front Air Struts
for the '03-'09 Mercedes-Benz E-Class and '05-'11 CLS-Class
with AIRMATIC and without 4MATIC
Arnott Air Suspension Products announced the introduction of new, not remanufactured, Arnott-designed aftermarket Front Right and Front Left air struts for the 2003 to 2009 Mercedes-Benz E-Class and the 2005 to 2011 CLS-Class, both with AIRMATIC and without 4MATIC.
The Arnott air struts replace OEM Part Numbers 2113205413,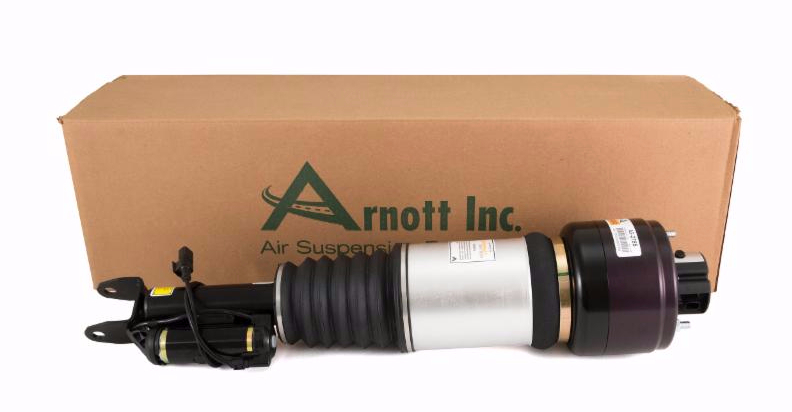 2113206013, 2113209413, 2193201213 (Front Right) and 2113205513, 2113206113, 2113209313, 2193201113 (Front Left).
Arnott Part Numbers are AS-2785 and AS-2786. A detailed Installation Manual is available for download to help ensure a successful remove and replace experience.
The Arnott Advantage
Designed, assembled, and tested in the USA, Arnott's new aftermarket front air struts replace the OE struts and feature a new custom-tuned shock absorber calibrated to provide an excellent ride and outstanding performance. The Arnott struts include a new air bladder from Continental ContiTech protected by an aluminum can along with a CNC-machined top mount made from aircraft-quality aluminum. In addition, the new struts feature Arnott's long-lasting seals, new bumpstop, new heavy-duty crimping rings, and new connector valve along with dust boot to protect the strut.
An Impressive Array of Additional Innovations
The featured air struts for the Mercedes-Benz are high-quality, cost-effective solutions for Mercedes-Benz owners concerned about failing air suspension parts leaving them stranded with expensive and recurring maintenance problems. However, 'The Arnott Advantage' does not stop there … Arnott offers an impressive array of additional, innovative new and remanufactured aftermarket replacement parts for the Mercedes-Benz.